Here's What's Triggering The Extended Cryptocurrency Bear Market
Cryptocurrency investors are feeling the persistent pain of an ongoing bear market with the slide in digital currencies continuing for more than half a year now. Avid alt-coin aficionados might […]
Cryptocurrency investors are feeling the persistent pain of an ongoing bear market with the slide in digital currencies continuing for more than half a year now. Avid alt-coin aficionados might even say they're totally #REKT.
Bitcoin, the largest cryptocurrency by market cap, is currently trading at $6,738; that's down from $17,204 where it was at the start of 2018.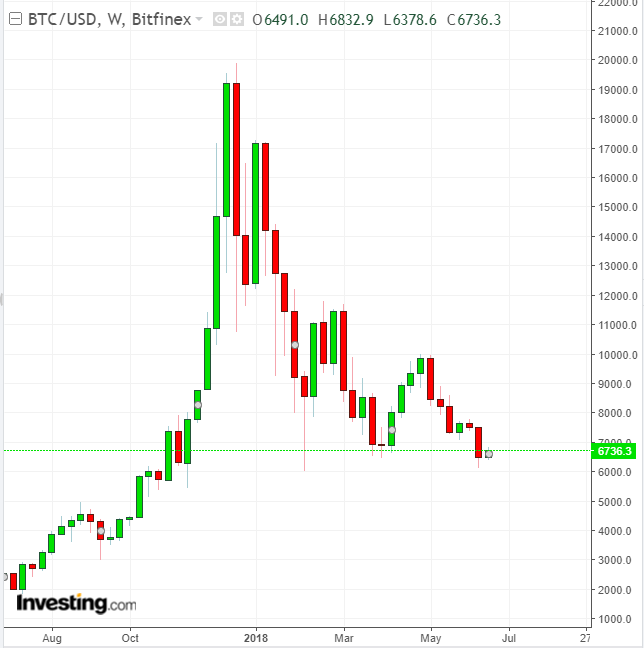 Similarly, the second largest digital currency by market cap Ethereum has also plunged. It was priced at $1,380 in mid-January, currently $535.46 per token.
Ripple, and Litecoin, the third and sixth most popular alt-coins by market cap are significantly off their early 2018 highs too. Ripple started 2018 at $2.64 and is now trading at $0.538 whereas Litecoin, which hit $278.55 on the first day of the year is now trading at $97.17. All current prices are accurate as of time of writing.
And the above are hardly isolated examples. The most popular coins across the entire asset class have plummeted. Many investors are wondering why, and whether there's any upside ahead.
As with any slump, there are several drivers. The broad landscape of factors range from accusations of price manipulation to a recent Bank for International Settlements (BIS) report saying alternative coins are unscalable.
As well, security breaches, regulatory crackdowns, regional government bans on initial coin offerings (ICOs), expiration of futures contracts and know-your-customer (KYC) issues have all hit Bitcoin and trickled down to every other altcoin, according to CoTrader analyst Adam Kovac.
Then there's the recent University of Texas paper that alleges Bitcoin has been manipulated for years—something many have long suspected. Add to that the recent report that the former asset manager of the Mt. Gox exchange, which, after being hacked went bankrupt in February 2014, recently flushed hundreds of millions of dollars of Bitcoins into the market going back to March, said Kovac.
Leave emotion at the door
During the turmoil, it's important for investors to remember nosebleed highs and breathtaking lows are a key characteristic of this extremely volatile asset class's history. Bitcoin for example, which was first issued in 2009, it's experienced many corrections and two crashes.
At this point, it's important to keep timescale and perspective in mind, said Martin Wos, co-CEO of Block Stocks.
"Despite being over 68% down from its all time high price, Bitcoin is still worth over 150% more than it was one year ago. It's human nature to want to point to specific events as the "cause' of changes in price and way to explain the drop, but the reality is that what we are seeing is a healthy correction from an overheated and manic market phase that we were experiencing in December/January."
Another good indicator in these volatile cycles, using Bitcoin once again as the example, is seeing the ratio of its current price against the 200-day moving average, Wos added.
"Periods when Bitcoin's price is trading at multiples 2.5x to 7x higher than its 200 MDA are a good indication that things are getting overheated. I believe there is still a bit more unwinding to do from the run-up we saw end of 2017, but that in four to six months we'll be re-entering bull market territory for an even greater run."
Wos notes he's "still incredibly bullish about crypto as a sector over the next five to ten years."
Zen CEO Adam Perlow doesn't believe there's any one thing driving this decline. "After a large rise, it seems that more money thinks it will go down than up, which makes sense," he says.
Ethereum: light at the end of the tunnel?
Ironically, an unlikely ally alleviated some of the crypto gloom: the US Securities and Exchange Commission (SEC).
William Hinman, director of the SEC's division of corporate finance, said at the Yahoo!) All Markets Summit last Thursday, the agency "doesn't see a lot of value in treating Ether today as a security," explaining that the fact that there is no central figure or group responsible for Ethereum, so "the assets may not represent an investment contract."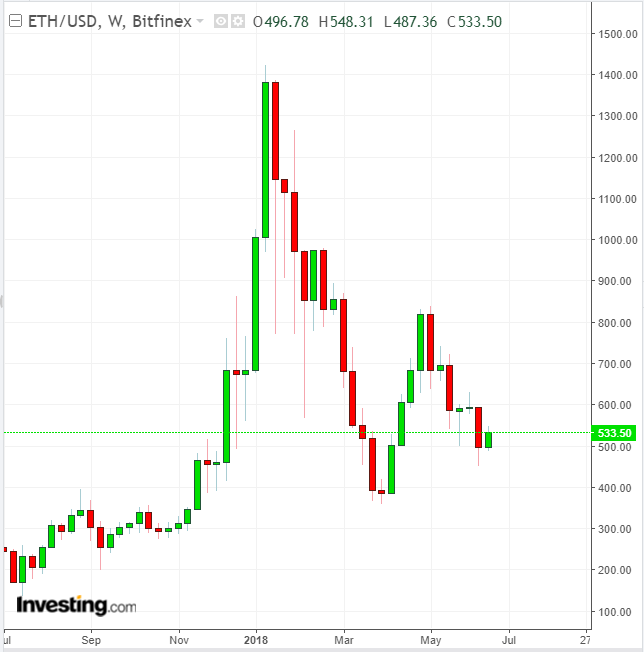 That eased some of the pressure of possible regulation on Ethereum. It rebounded ever so slightly on the statement though it's now retreated as the entire asset class continues to struggle.
Still, notes Alexey Bashlykov, CTO of Zerion, there's now a general understanding in the community that while the majority of tokens are considered securities, platforms like Ethereum may no longer require such stringent regulatory scrutiny going forward, which could buoy tokens that rely on the platform.
Block Stocks Swiss AG (www.blockstocks.com) offers a highly automated all-in-one Security Token Sale platform for Startups and Small and Medium Enterprises (SMEs) – one of the most profitable investments in the financial history. This fundraising platform is powered by the Block Stocks Tokens offering unique revenue streams for the Token Holders, who will own the share of each Startup or SME that will ever raise capital on the Block Stocks Platform. 
Über mich
Ich bin ein qualifizierter deutscher Ingenieur, spezialisiert auf Soft-& Hardware. Ich habe eine signifikante Rolle als externer technischer Sicherheitsberater für prominente Firmen wie Lufthansa, die deutsche Bundeswehr, Mercedes Benz, deutsche Top-Banken, die Pharmaindustrie, Miro & viele mehr gespielt.
Ich habe meinen Master mit dem Schwerpunkt auf internationale Strategien + Sales Management & internationales Unternehmertum gemacht...